Intro
Stuart & Carla from Glasgow Jitterbugs bring you Swivelicious, a Lindy Hop workshop dedicated to Follower and Leader styling! 
Workshop summary
In this workshop we'll be covering the following:
Swivels (obviously!). How to lead them, how to execute them as a Follow in the most dynamic and eye-catching way.

One of the things we'll be looking at in this Swivelicious is some of the legendary Spirit Moves. Movements by the original lindy hop dancers.

Inject energy and excitement into your dancing. We'll be showing you some fun and easy ways to make your dancing more dynamic to watch and more enjoyable for you and more!
Levels
In order to attend this class you should be very comfortable with your 6 and 8 count Lindy Hop basic and have a reasonable amount of social dance experience as well. If you are unsure, please contact us and we'll be happy to advise.
---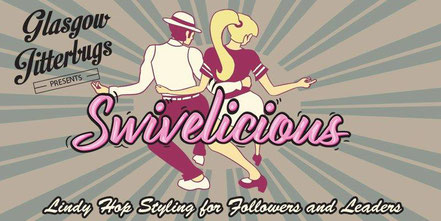 Venue is Dance HQ
411 White Studios, Templeton on the Green,
Templeton Street, Glasgow G40 1DA
Schedule
2-3:30pm Class
3:30-4pm Break
4-5:30pm Class 
---
Optional Activities
FOOD - We'll be heading to the Butterfly & Pig to catch the second set of Babyface & the Belting Boys were we can dance for free and maybe get some food.