That's right, 5 years! We can't quite believe it either but 5 January's ago, we started teaching our weekly Lindy Hop & Collegiate Shag classes in the Templeton Building. Please come celebrate this momentous milestone with us!
As with most of our special events, there will be some homemade cake. We'll also have some fun party games planned guaranteed to leave you laughing with mucho amusement.
Full bar at venue. Please ring buzzer to be let in.
Date/Time
Friday, 18 January 2019
8pm till midnight
Venue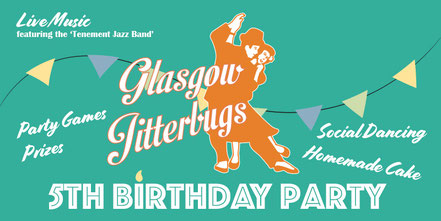 Live music by the Tenement Jazz Band
We are being spoiled with live music from one of the best jazz bands we've ever danced to - The Tenement Jazz Band! If you were dancing on the mound at the last ELX or at Hogmany Hop 2018 in Edinburgh, you will already know how awesome they are.
Tickets
We are operating a sliding scale for this event as our overheads are higher than normal. If you know you can afford it, please pay the standard price and this will help people to attend who are a bit tighter on cash:
Standard Online Price - £15 - if you know you can afford it 
Concession Online Price - £12 - if cash is tight for you
On-the-Door Price - £16